$59.95 $119.95
HandyIron - The Folding Portable Iron
The HandyIron is the perfect ironing machine that fits in the palm of your hand. It is also extremely lightweight, weighing just 0.81 pounds and has a flat design that folds about the size of a palm. 
By spreading out the sides of the iron, you can use it to iron a wide range of clothing like a traditional iron. 
For small areas such as collars, pockets or trouser legs, simply clip the sides of the iron.
There are 6 adjustable temperature patterns, which can be used according to different fabrics (Polyester, Silk, Wool, Cotton, Denim, and Linen).
Can be used to select fabric types with thermal level (f/c)

Polyester cloth polyester 230F (110C)

Silk fabric 255F (124C)

Wool is 275 f (135 c)

Cotton fabric (T-shirt) 330F (165C)

Cowboy 350F (176C)

Linen flax 350F (176C)
Has double ironing position: perfect for quick touch or ironing when you need more surface area.
No need for water.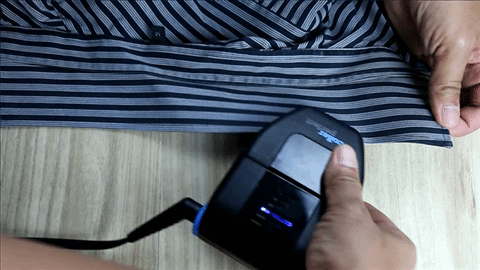 Features
Easy to use-

 

6 adjustable preset temperature settings that work on a variety of fabrics.
Versatile-

 

Works like a traditional iron when the sides are open, or can be used to reach those hard places such as the pockets or between the buttons.
Compact design-

 

Allows you to take it anywhere with you, making it the perfect travel gadget.
Our Guarantee- If for any reason you feel that this product isn't for you feel free to send us an e-mail at our store address and we'll promptly refund your money. No questions asked.